Hello Frnds. Today we are going to talk How To Play FAUG Game and also tell FAU-G game Features .
Finally, the long and most awaited game of India is over. The FAU-G Game has been launched on the playstore.
Read this article till the end we will give you every details and information that you want to know about FAU-G Game.
How To Play FAUG Game, FAU G Game Best Features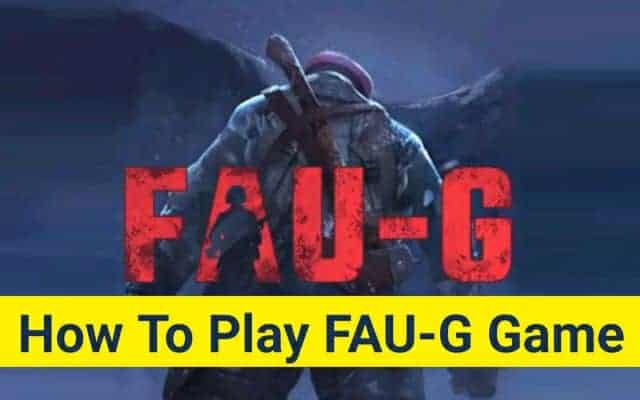 The FAU-G Game is developed by nCore Pvt. Ltd., which is a software company based in Bangalore. 
The game was promoted by Bollywood actor Akshay Kumar back in September, right after the ban of PUBG Mobile in India. This game came in support of"Atmanirbhar Bharat" movement of the Indian Government.
Immediately after the ban of PUBG Mobile in India, Indian software company nCORE Games began developing its own game, which even sounded like PUBG. The company named it FAU-G, which expands to Fearless and United Guards.
This launch date came just as PUBG announced its Indian version of the game.The game was scheduled to be launched in November but due to some reasons it was canclled.  Developers promised that the game will be launched on 26th of January which is Republic Day in India. PUBG Mobile India is still due out in India. 
FAU-G GAME FEATURES
FAU–G's gameplay will be tied to the Indo-China border conflict in 1996. Players will be in the middle of the action in the Galvan Valley and take the Indian side.
 In addition, 20% of the net revenue from the game will go to "Bharat Ke Veer" Trust, an organization that gives support and respect to people who sacrifice for the nation. Basically the fund will go to the Indian Soldiers.
The first level of the game is set in the Galvan Valley, the backdrop of Kashmir. After Each level is seton linear missions and episodes of Indian Army. This game goes through a story. Hence, it is not battle royale game. It's an action combat story mode game. It is based on real life events.
The size of the game is 470mb-500mb. The game can be dowloaded in Android 8.0 or higher.
How To Download FAU-G Game?
FAU-G Game can be downloaded from both Paystore and it's official website. The apk format will be available on the website. After Downloading apk format we will have to install it.
But the easiest way is to download from the Playstore. Here are the step;-
Step 1- Open the Google Play Store and Search FauG in search bar.
Step 2- FAU-G:Fearless And United Guards will appear.
Step 3- Click on it and Install the Game.
*Note- Developers have still not announced whether it will be available on iOS Store or not. If you want to play the game in iPhone, then we still have to wait for it if it comes for iOS devices in future.
How To Play FAUG Game ?
After downloading the game, open it. Accept the privacy policy and terms & conditions. You can make a guest id or select an unique username. It will take few seconds to load.
Now select "Play" option which will start a new game, in which "Training" for the game will be started.
After the completion of Training, your Gameplay will start in which you have to find your crewmates or soldiers. You wil have to fight with the enemy .
At first we will have to fight with only "Fist". You can upgrade weapons by paying money or in later stages of the game.
There are many dailogues in Hindi Langauge, which are patriotic which makes it even more intresting.
FAU-G Game Weapons List Name
AAKROSH (CLUB)
TANDAV (AXE)
AGNI (AXE & PIPE)
PRATKIRTI(CLUB)
DEVRATH (AXE &PIPE)
PRATIKAR (CLUB)
---
FAUG Gameplay Review
Many of us were wondering, The FAU-G will be similiar to PUBG mobile. Like PUBG Mobile, FAU-G is not a battle royale game. 
Looking at the screenshots of the game posted on the Play Store, we can assume that it is a very similar to other action combat games.
After Playing the FAU-G game , we can say that FAU-G is a action combat battle game. TDM mode haven't been launched yet. The game says it will be available soon.
FAU-G can be played in TPP(Third Person Perspective) only. The game have will two modes: single player and multiplayer. In one of them, the battle royale might become available to players, but it will not be added to the game immediately, but only after a while after the release. 
Like PUBG mobile, FAU–G is also a free-play game with Battle Pass monetization mechanics which is priced at Rs 19, Rs 149, Rs 299, Rs 599, Rs 1,299, and Rs 2,999, depending on the bundle.
Controls of the game are easy and we can customize it in settings.
Conclusion
FAUG game looks like a normal game, but it's worth a try. After the ban of Pubg Mobile game, This game created a lot of hype in Indian gaming community. More than 4 miliions people Pre-registered for this game. Everyone were expecting it to be a Battle Royal Game. Graphics is not upto the mark but it is good by Indian's perspective as we are making our own game. Hope to see, some new things in future updates.
That's it. We bring you all updates in times. Keep Visiting.