In today's article we will know that Jio Phone Next full review, how to book Jio Phone Next online? What is JioPhone Next price? Will it be best to buy JioPhone Next smartphone?
Today I will give you the answer to all the questions related to this. And also I will tell you about Jio Phone Next full review and JioPhone Next specifications.
So let's start today's article "How to book JioPhone Next smartphone online".
How To Book JioPhone Next Smartphone Online
JioPhone Next smartphone was waiting for a long time. Now Jio Phone Next has been launched. All the details of JioPhone Next smartphone have come out in front. And the booking of Jio Phone Next will start from 4th November.
Users had to wait a lot for Jio phone's next smartphone. Many new features have been added to Jio phone. And together with Jio Phone Next price of Rs.1,999 has been kept. And also you have to pay 18/24 months EMI.
An unlimited plan will also be added to the same EMI. You will not have to recharge separately.
JioPhone Next Price
There has been a lot of false rumors about the JioPhone Next price earlier. Earlier it was being speculated that the JioPhone Next price would be around Rs.3,500 to Rs.4000.
But the price of JioPhone Next has been kept quite attractive. The actual price of Jio Phone next is Rs.6,499. Which you can buy JioPhone Next smartphone for Rs.1,999. And you can pay the remaining amount in the form of attractive EMI.
And the special thing is that you will also get an unlimited plan in the rupee of EMI. Which is very nice. I have given the details of EMI plan through the image below.
You can know Jio phone EMI in detail by checking the image given below.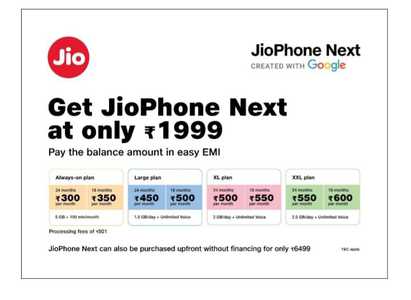 If you want to buy JioPhone Next without EMI, then you can buy it for Rs.6,499. If you buy Jio Phone Next for Rs.6,499 then you will not have to pay EMI. But after that, you have to recharge the plan with unlimited separately.
How to book JioPhone Next?
You can book Jio phone in three ways.
By visiting your nearest Jio Mart or Store.
Online can be done from the official website of jio.
With the help of Whatsapp, you can book jio phone next.
1. Book JioPhone Next From Jio Mart or Store
First of all, find your nearest Jio store on the map. After that visit Jio Store to see if the phone is available.
After this, you can get more information about JioPhone Next smartphone from Jio Store. And you can also buy Jio Phone Next. With this methods, you will get Jio Phone Next immediately.
2. Book JioPhone Next Online
You can also book Jio Phone from Jio's official website. Let us know that How to book JioPhone Next from Jio.com?
Step 1. Open any web browser on your mobile/laptop. And go to the web page of www.jio.com/next.
Step 2. After this enter your name and mobile number and click on Generate OTP option.
Step 3. Now an OTP will come on your mobile number. Verify that OTP.
Step 4. After this fill in some of your personal details like address, location and click on submit option.
After this, you will get a message as soon as the jio phone will come in stock. You will book the phone by paying on jio.com.
JioPhone Next Full Review
Let me now give you the full review of Jio phone next smartphone.
JioPhone Next Display
In JioPhone Next smartphone, we get a 5.45-inch screen, which comes with multitouch. The display resolution of Jio phone is 720 X 1440 pixels. Whose refresh rate is 60 Hz.
And the special thing about the display of this phone is that you get the protection of Corning Gorilla Glass 3 along with an anti-fingerprint coating in it.
JioPhone Next Battery
The battery of the smartphone plays a very important role in any smartphone. 3500 mAh battery of removable Li-Polymer has been given in Jio Phone Next. And with this phone, we get 7-watt charger.
Good battery backup has been given at this price. Its battery is enough for normal usage.
JioPhone Next Camera
In Jio phone, we get a 13-megapixel camera in the rear side, and a flashlight is also available. If we talk about a selfie camera, then we also get 8 megapixels selfie camera in it.
Overall, we get to see decent camera quality in this. I checked by clicking some images from jio phone. The image quality was fine.
JioPhone Next Processor
Jio phone is working on Pragati OS. And in this, we get the support of Android version 11. Which is the latest version as of now.
We get to see the Qualcomm Snapdragon QM215 processor in Jio Phone next smartphone. This processor was launched in 2019 itself. And the Andreno 308 GPU can be seen in this smartphone.
JioPhone Next Network & Memory
Many people doubted whether JioPhone Next is 5G smartphone? So let me tell you that this is a 4G enabled smartphone. LTE is supported in this phone. In this phone you can use dual nano-SIM.
Jio phone is available with 2GB RAM and 32GB internal storage. Now its storage can be expanded up to 512GB. LPDDR3 RAM is available on this phone.
JioPhone Next Features
According to the price, decent features have been given in JioPhone Next Smartphone. I have listed out some features of Jio Phone Next smartphone.
In JioPhone Next, we get the support of 10 Indian languages. More languages ​​will be added in the future.
The feature of "translate now" is available in this Jio phone. Right now these features are being given only in expensive smartphones. But you will get to see this feature on jio phone. This is a great feature. With the help of Translate now, you can download any images, text, etc. on the screen of your phone. The language can be easily read by translation.
With the help of reading Loud, you can listen to the text written on a screen with the help of audio.
We get to see a lot of features in the camera of this phone. Such as HDR mode, night mode, camera filters are available.
A new Operating System (OS) has been used in Jio phone. And its name is Pragati OS.
In Jio phone next you can use all those applications which are available on android phone. Despite having a different operating system in Jio phone, google play store has been given in it. Meaning that you can download any application from google play store.
JioPhone Next Specification
Brand Name – JIO
Model Phone – Jio Phone Next
Screen – Touch screen
Launch date – September
Rear camera – 13MP (one camera)
Sim Slots – 2
Android – 11
Sim Type – Nano SIM
Led Back Light – Yes
Front Camera – 8MP Selfie Camera
Software Operating system – Android
Connectivity – Wifi, GPS, Bluetooth
RAM – 2GB/ 3GB
Some FAQs
Can I play BGMI in JioPhone Next?
No, this is not a gaming phone. It is designed for general use. Even if you download the BGMI game in it, then the phone will lag a lot while playing.
Is JioPhone Next 5G phone?
JioPhone Next is a 4G enabled smartphone.
Conclusion
By the way, the price of JioPhone Next has been increased a bit. Some great features are available on this phone. But some features are not good according to this price range.
For example, only 2GB of RAM has been given in it. If we run any heavy App in this then it will start to lag. Ram should have increased a bit in this phone. In this smartphone you can not play heavy games like, BGMI, freefire.
If you are looking for a smartphone for general use only, then you can buy this JioPhone Next smartphone. By the way, you will definitely tell us by commenting that how did you like the JioPhone Next smartphone.