Hello Guys, today we are going to talk What is BiP App,? How To Use BiP Messenger App? You must have heard the name of BiP App.
As you know after the new Whatsapp privacy policy, users are now finding alternatives of Whatsapp messenger. Thousands of social media posts with #DeletingWhatsApp were shared.
Apps like signal, telegram and BiP have got high boost in their downloading numbers.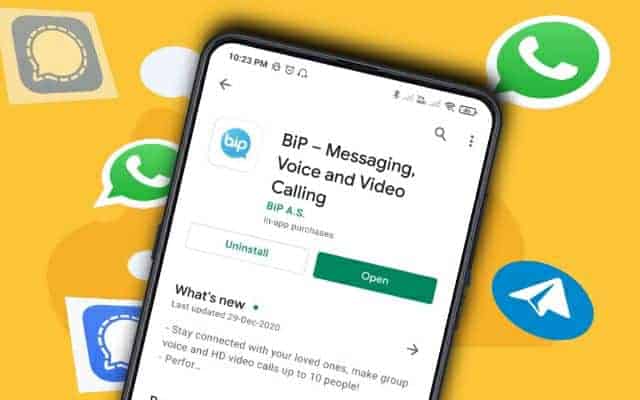 What is BiP App?
BiP is an application that provides users with instant messaging and next generation voice and video calls. You can instantly and for free send all your messages, photos, video and audio files along with fun content only available in this app.
BiP is a Turkish app. In just 3 days, it has been downloaded more than 10 Millions. So we can say, Hype is real. So today we will know about, what is Bip app, what are benfits of this app and How to Use this app. Read this article till the end to know what are features of BiP app.
Features of BiP App
BiP app has more to offer in respect of WhatsApp. You can connect upto 10 peoples in group video call whereas in Whatsapp we have seen that it was limited to 8 people. You can send memes, GIF stickers to your friends in this app. You can also make memes which is a quite fascinating for youth.
Here are the basic features of this app
Free video and audio calls;
High quality video and voice communication;
Disappearing messages: these are messages that disappear from the chat of your interlocutor after 10 or 60 seconds; you set the time of disappearance of the message yourself;
Absolutely awesome copyrighted stickers and memes;
Chat with non-BiP users: send SMS and MMS to subscribers of other mobile networks – absolutely free; Group chat: communicate simultaneously with several users.
Location: tell your friends and family and where you are with just one click.
Where can I get BiP?
You need to find the application in Google Play or the App Store, then download, install it on your mobile phone and start using the application.
---
How to use BiP app?
First, let's discuss how to install and register on BiP. Here are the steps-
Search for BiP in playstore/iOS store.
After downloading the BiP app, install it.
After installing, click continue.
You will get two options i.e. to register with your own sim card or with a virtual number.
If you register with the virtual sim card, then you have to recharge with their given plans. Packages can be ordered one-time for 30 days or with a monthly subscription on an ongoing basis: payment for a package of minutes will be debited automatically every month. Internet traffic for making BiP Out calls for lifecell subscribers is free of charge.
If you register with your own sim card, then you will be registered for free.
Now, in the chat section on the bottom right corner click "message" icon.
You will know how many from your contact list are using BiP app.
You can use BiP app for leave voice and video messages to users. You can share photos, audio and video files, if necessary, without compression and loss of quality with your friends.
Or You can send stickers and memes that are only in BiP, you can even create your own meme with one button and play online directly in BiP, without installing games on your smartphone.You can also subscribe to Newsfeeds.
Is BiP App Safe For Private Chat?
Messages in BiP App messengers are encrypted, if the backup feature is on. If your backup is not on, then after some your messages will be automatically deleted.
All chat conversation between your phone and server is securely transmitted and encrypted.
So, we can say that this app is safe to use.
That's all !