Hello friends, today we will talk about What Is Demat Account What Is The Use Of It ?, and how many types demat accounts are there, demat account advantage and disadvantage.
You must have heard about Demat account somewhere and also seen advertisements in TV mobiles. And the question must have also come in your mind that what is Demat account and why it is used.
Let's know in today's article What Is Demat Account What Is The Use Of It ?
What Is Demat Account What Is The Use Of It ?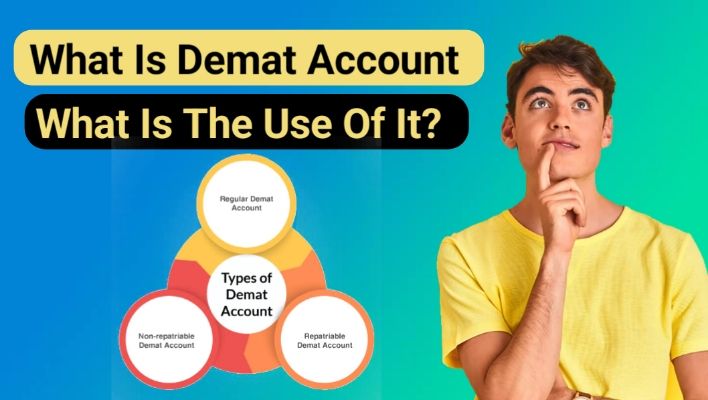 What Is Demat Account What Is The Use Of It. A work of demat accounts help investors hold shares and securities in an electronic mode system. The demat account is also called a dematerialised account. It also assists to keep proper tracking of all the investments an individual made in shares.
You will get some features like exchange traded funds, bonds, and mutual funds at this one place. The demat account makes proper share trading in quickly and easy. It also eliminates risks and make challenges associated with the physical share proofs. If you want to invest in the stock market, you will mandatory to open a demat account. Importance of a demat accounts-
It provides you a digitally secure way of holding shares and securities.
It is gives you a eliminates theft, forgery, loss and damage to the physical proofs.
And most advantageous is that it gives you a quick and instant transfer of holding shares.
Also Read: How to do KYC for mutual funds online
Also Read: How to update mobile number in Aadhar Card
What Is A Dematerialisation ( Demat Account? )
It is the process of quickly converting the physical share certificates  into the electronic format system, it is easy to maintain and  access them from anytime and anywhere, The advantage of a demat account makes it a lot of easiest way to handle shares.
If any investor who wants to convert his physical shares into a digitalization form system then he must need  to open a any one demat account with a depository participant.
Who Can Open A Demat Account?
Here we will tell you some most important information to open a demat account in India, like Account opener's criteria, eligibility, and required documents.
The demat account opener should be a resident citizen of India.
The demat account opener should be a minimum age of 18 year or above.
Identity Proof- PAN card is most mandatory, make ensure your photo and signature on card are clearly visible.
Address Proof- ( Any one of these ) Passport, driving licence, voter ID, Aadhaar Card, or your bank account passbook statements for the last 3 months.
Income Proof- ( Any one of these ) Income certificate issued by state govt. Income tax return ITR statement, demat holding statements, holding report proofs.
Signature on white paper- Your sign will need to be on a white paper and take a photo of it, ensuring that the signature must match your PAN card.
Bank Proof- ( Any one of these ) Bank Passbook Bank Account's Statements for the last 6 months.
Your one passport size photograph is required.
How To Open Demat Accounts?
Hello guys, here we will tell you a few best Demat Account Opening platforms which are the most trusted and highly rated stars by their users.
Few Best Demat Account Opening Platforms Given Below-
Angel One demat and trading Account
5Paisa demat and trading Account
SBI Bank demat and trading Account
Kotak Securities demat and trading Account
Upstox demat and trading Account
HDFC Bank demat and trading Account
Axis Bank demat and trading Account
Zerodha demat and trading Account
And more Demat Accounts Opening platforms are available.
Now we will tell you How to Open a Demat Account, any one of which is mentioned above.
Please read carefully and then apply it to open your demat account,

So as we tell you above, which documents are required to open a demat account. Keep it ready to open a demat account in just just a few steps which are written clearly below.
How To Open A Demat Account in Upstox?
Step 1- Fill the form correctly as per ask, Complete the account opening form online and verify your details with OTP.
Note- An activated mobile number must be linked with your Aadhaar Card to verify OTP, ( FOR KYC PURPOSE ) otherwise if you want to open a demat account you must link a mobile number with your Aadhaar Card first.
Step 2- Upload Documents, after filling the form please upload the scanned copy of the required documents or take a clear photo of those documents to upload online.
Step 3- Demat Account is now Opened ( Start Trading ) after verification by Upstox, you will get client IDs, then you will be able to login to your Upstox demat account easily and start trading.
TO KNOW MORE VISIT UPSTOX OFFICIAL WEBSITE- CLICK HERE
Advantages Of A Demat Account-
At this time to buy, hold and sell shares and other securities, you need a demat account. It is an online digital system account used for holding dematerialized securities, including mutual funds, bonds, exchange-traded funds and more.
Here are some key benefits of a demat account
Reduced risks of loss of your documents- This gives you a chance of losing your important documents in physical bond and shares. This is a story shares in online format is a better and safer option, it also enables you to have a permanent online record of your shares.
Loan Facility- It provides you apart from using it as a secure deposit for your share savings, Then you can be eligible to access various bank loans by the securities maintained in your demat account.
Time Saver- This is a very important thing to notice that the time taken for purchasing and selling shares using the demat account is minimal. On the other hand transfering the physical shares was a very long process. Online transactions are so easy because all the securities are stored into a dematerialised format system.
Seamless Process- These accounts ( Demat Account ) are directly combined with internet banking and online trading, this makes the easy process of trading very convenient and hassle free. When you buy and sell your shares in a trading account, your bank makes the process of automatically debited or credited and subsequently in your trading account without your personal involvement.
Cost Savings- If there are no any physical securities involved, then demat account is totally free of few additional costs such as stamp duty charge, handing charge, other it related charges. This provides an overall cost for the investor and makes this account cost efficient.
Few Disadvantages of Having Demat Accounts
Here are given below few disadvantages of demat accounts
Annual Charges- when you are going to open a demat account on any platform must remember that there are some hidden charges included to open in demat account such as annual maintenance charge, brokerage charges, and more other charges are included. These charges are so different from bank to bank, or when a demat account is being held.
Technology Savvy- if you want more benefit from a demat account you will need to get the basics right. You will need to learn how to use these platforms to your high and maximum benefits. However some account holders are dependent on their brokers for using these platforms, this may be risky and you will be caught into fraud.
System Errors- Sometimes the demat websites are running very slow, just feel like they are lagging, the mobile network may not be picked speed, the computer may not respond, the website server gone down, and website may not work properly, and the trading terminus may not be able to use perfectly. In fact its cause huge loss in trading.
No Control Over Decision- More greed, fear and patience are the main factors for stock market success, it is going to be very very difficult to control your emotions. Due to the heavy market fluctuations the investor is going crazy.
Which Type of Demat Account is Best?
This depends on you which demat account platform you will like, but don't worry here we have discovered the best trading platform with the names given below.
Year 2022's Best Demat Account Opening Platforms.
Zerodha
Angel One
5 Paisa
Sharekhan Demat Account
IIFL Demat Account
Motilal Oswal Account
HDFC securities Demat Account
Kotak Securities Demat Account
ICICI Demat Account
These Demat Account Opening Platforms are 2022
Kotak Securities Demat Account
ICICI Demat Account
These Demat Account Opening Platforms are 2022's top ranked in overall India.
FAQs
How many types of Demat Account?
There are three types of demat accounts.
1. Regular Demat Account.
2. Repatriable Demat Account.
3. Non-repatriable Demat Account.
Is Demat Account opening free?
No, there are included annual maintenance charges and some other types of charge may be included.
Demat Account full form?
Dematerialisation account is the full form of Demat account, Demat is a short name to say it easily.
What is a demat account and what is the use of it?
This type of account helps investors hold shares and securities into an electronic form. This kind of account is also called a dematerialised account.
Is demat account safe?
Yes, it is totally safe, if you share your login credentials to anyone, maybe your demat account will become hacked.
What is the minimum balance to open a demat account?
Generally demat account is used for store shares and trading not for money, there is no minimum balance required that you need to maintain, but if you wish to open a demat account you need first that different types of charges applied in it.
Can I open a demat account in SBI?
Yes, if customers want to open a demat account in SBI then he needs to download the Yono app then he can start trading.
Conclusion
A demat account comes with many benefits, and you get to digitally trading into the stock market. These accounts still included many different types of other advantages, it gives you a particular few extra features, just like freezing the account and transferring shares in odd lots briefly.
This provides you documents remaining safe, and there is a small scope of fraudulent transactions. We hope you understood all the above points and you will be applied correctly to open a demat accounts.